DDSR20 2.0 successfully certified as OEB version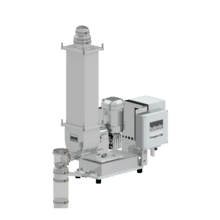 Kubota Brabender Technologie Launch OEB Certified Twin-Screw Feeder
Powtech saw the launch of Kubota Brabender Technologie's OEB certified DDSR20 2.0 twin screw feeder.
Having passed OEB's highest classification, level 5, in June 2022, Genesis is now one of the first feeder suppliers in the UK able to offer an OEB certified feeder.
Standing for Occupational Exposure Bands, the OEB system grades substances into classes or ranges based on the health effects and efficacy aspects of the chemical involved. The DDSR20 2.0 OEB is suitable for feeding both pharmaceutical and hazardous materials, such as those found in battery manufacturing.
With processors quite rightly increasing their focus on operational safety, exposure levels to these types of dangerous chemicals require ever stricter design requirements for the equipment involved.
So what aspects of its design makes the DDSR20 2.0 OEB-compliant?
To provide reliable, dust tight sealing, all of the feeder's seals feature specially designed sealing systems. The leak check opening in the twin gearbox is sealed with a sight glass to maintain functionality and to prevent ingredient leakage in the event of a shaft seal failure. 
The quick-release fasteners on the lid, hopper, and screw tube of the OEB version of the feeder can only be opened using tools, preventing accidental opening, but they are also designed to remain in place on the feeder when it is being disassembled. 
As with all of Kubota Brabender's generation 2.0 modular equipment feeder family, the OEB version has a modular design, and the use of standardised components enables it to be easily converted to other configurations within the DDSR and DSR product lines. 
For those who are looking to upgrade existing units, Kubota Brabender also offers the option of providing a kit to convert a standard feeder to the OEB version.
Jürgen Knez, Head of Mechanical Product Development at Kubota Brabender Technologie, explains: "To convert to the OEB version, the trough, hopper, cover, and screw tube need to be replaced, as these four components feature a different finish. To ensure they are 100 percent dust tight, the components are machined after being welded. All joints feature a smooth surface of high dimensional accuracy and therefore deliver a long-lasting dust tight seal.
So if you are feeding hazardous materials and need to investigate the best way of keeping your operators safe while doing so, the team at Genesis would be happy to show you more of this exceptional new design.
Please give us a call or drop us a line and we will get back to you.